Trust Our Littleton Roofers
Keystone Roofing Inc. Provides Solutions for Hail Damaged Roofs
Hail season: it starts in the Spring, ends in the Fall, and can put the structural integrity of your roof at risk. Colorado's changing weather can result in intense hail storms that pass as quickly as they form yet still can take a toll on your property, especially your roof.
Keystone Roofing Inc. specializes in providing homeowners with roofing hail damage solutions after a major hail storm. Thanks to drone technology, our experienced and knowledgeable roofers can quickly and thoroughly inspect your entire roof and look for any signs of roof hail damage on your Colorado home. We'll then be able to suggest the appropriate roofing services, whether it's a few repairs or a complete roofing replacement.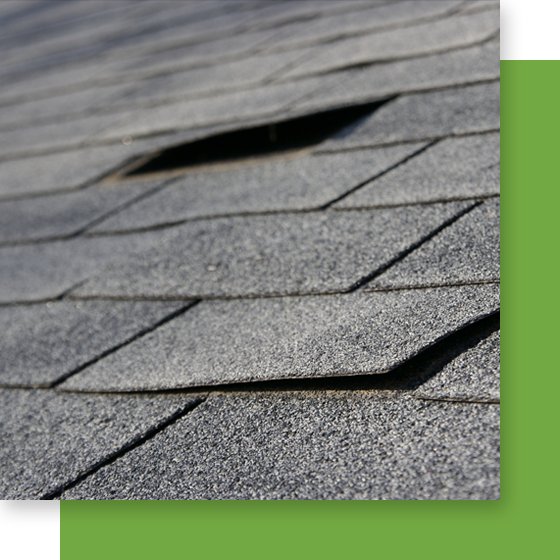 What To Do After A Hail Storm
Walk around your home's exterior to look for roof hail damage
Note or photograph any of the damages you can see
Check inside attics and basements for leaks or evidence that your roof is damaged
Contact a professional roofing company to perform an inspection
Review your insurance policy and file a claim, if necessary

Missing or Damaged Shingles
When hail impacts your roof it can damage shingles and other roofing materials. Noticing that shingles are missing or damaged is a sign that you have a hail damaged roof on your hands. When the integrity of the shingles on your roof has been compromised, water leaks can develop over time.

Granule Buildup in Gutters
Part of the damage that hail causes to shingle roofing materials is removing the granules. Granules add a protective layer to your roof. Without them, the shingles become vulnerable to UV light degradation, cracking, blistering, and roof leaks. If you notice a granule build-up, contact your roofer.

Damaged or Hanging Gutters
If you notice that your gutters are damaged after a hail storm, chances are your roof is damaged too. Hail can not only damage gutters, leaving dents but can also knock off already-loose troughs when hit. If your gutter system is compromised, the structural integrity of your roof will be too.

Other Property Damage
Your roof and gutters aren't the only thing hail can take a toll on. Outdoor units, such as vents, chimneys, and skylights may also sustain damage during a hailstorm. Roof-related hail damage can lead to even more costly repairs, so it's important to have everything fixed quickly.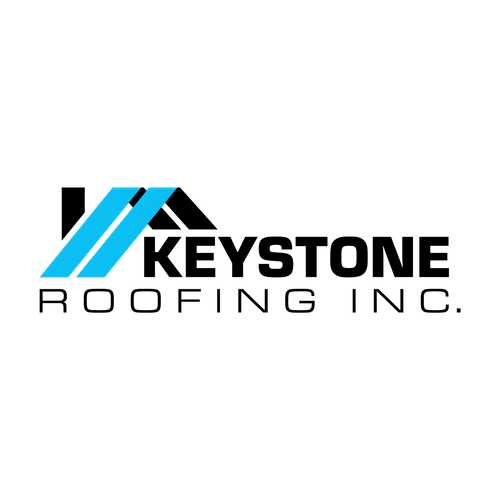 Roof Hail Damage Littleton
Don't Underestimate Colorado Hail Storms
You may be tempted to think that hail damage isn't really a big deal, especially if the damage isn't catastrophic, and that it can be dealt with at your leisure. However, in reality, the longer you wait to get the roof replacement or repair process started, the more difficult it can be to get the coverage you need.
Things will go much smoother if you get a roof inspection and submit an insurance claim as soon as possible following a hail storm. Waiting months after the storm to get the damages fixed may lead your insurance company to question the actual cause of damage, ultimately putting your chances of having the work covered at risk.
So don't wait, contact our Littleton roofers as soon as you can following a hail storm to schedule an inspection and get the process started right.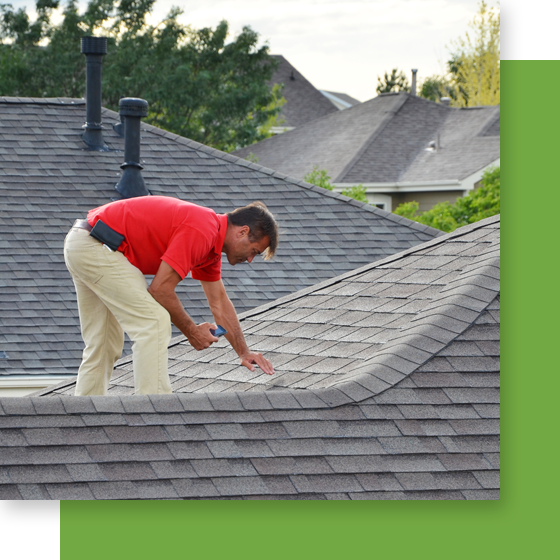 Submitting an Insurance Claim? We Can Help!
We know how overwhelming it can be to deal with insurance companies and filing claims and Keystone Roofing Inc. can help make things easier for you. We work with a network of insurance liaisons that can help you navigate through the homeowners insurance claim process after your roof has suffered roofing hail damage. When you work with our Littleton roofing company, we'll provide you with a detailed and thorough inspection, free of charge. We'll help you get the necessary documents to provide your insurance company with. After that, our roofers can work with your policy to provide you with the roof replacement or repair services that are needed to restore the structural integrity of your roof — it's as easy as that!
Roof Inspection Today
Keystone Roofing Inc. can help you navigate the entire process of assessing hail damage on your roof and receiving repairs or a roof replacement. Our honest and knowledgeable roofing contractors can inspect and assess your roof, help you file a claim, and offer solutions for your hail damaged roof. No matter what your residential roofing needs are, our team at Keystone can find a way to meet them and keep your roof in excellent condition. Contact us today to schedule an inspection.
Contact Today For Service You Can Trust